Are You Over 18 and Interested In Becoming an Umpire?
If so, there will be an Umpire Training Clinic on Sunday, March 4th at Providence Rec Center (near Falls Church HS) that will run from 9:30 AM until about 3:00 PM. Any prospective umpires or interested parties are welcome to attend. The training is conducted by Virginia Babe Ruth Umpire Association, and refreshments and sandwiches will be served.
Mark Your Calendars
February 18th - Coaches Meeting
If you are interested in Coaching please REGISTER now. WE NEED YOU!
March 17th - Evaluations
All NFC Babe Ruth players that have not played in the league before should attend. More Info to Come.
March 18th - Field Day
We need to prepare the fields for the upcoming season. All are invited to help. More Info to Come.
April 7th - Prep Clinic
NFCBR Coaches will hold a clinic for all Prep Players
INTERESTED IN COACHING THIS SPRING?
COACHES MEETING, SUNDAY, FEBRUARY 18th
NFC Babe Ruth can only be successful if we have great coaches and we can always use great coaches. If you are interested in coaching, please register as a volunteer. We will have our Spring Season Coaches Meeting on Sunday, February 18th at 7pm at the Four Seasons Clubhouse. Check back soon for more information.
Attention Baseball Players and Volunteers!

Registration is now open for the NFC Babe Ruth Spring 2018 season. Please register now to get special early-bird pricing. Evaluations for 13 year old Prep players and those that have not played in the league before will be March 17th. Players who played in the Spring 2017 will be returning to their system teams but still must register prior to the season.
If your player is trying out and makes a High School team this spring, registration for those players will be open in March and the season for those players will begin after the High School season concludes.

To register online, please visit the NFC Babe Ruth website, www.nfcbaberuth.com.

To access the registration system directly, please click on:

Player Registration

Volunteer Registration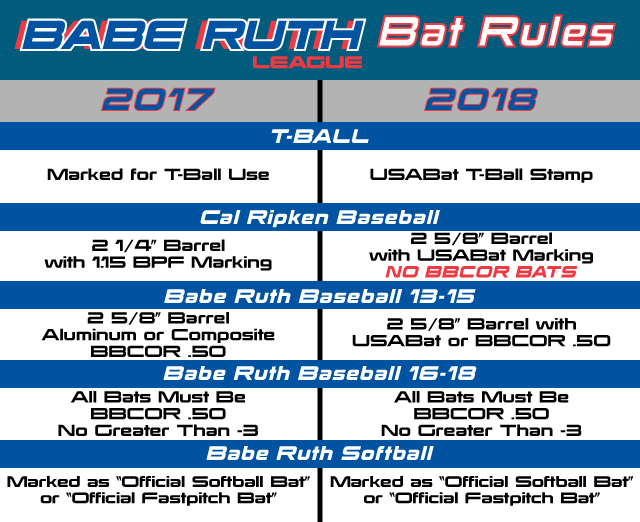 NEW BAT RULES FOR SPRING OF 2018
TO: Babe Ruth League Membership
FROM: Steven Tellefsen, President/CEO
DATE: October 14, 2016
RE: Implementation of USABat Standard
Welcome to NFC Babe Ruth
Babe Ruth is an international organization promoting youth baseball. We are the local chapter for 13 - 15 year olds. Our territory stretches from RT 7 to RT 28. Traditionally our players come from Chantilly Little League, Herndon Cal Ripken (HOYB) and Reston Little League but we accept all players including those with little or no experience in playing baseball.
We form teams locally and play on local fields. Also, we play teams from Babe Ruth leagues in Fairfax and other counties.
Our program has System, Travel and All Star teams.

System teams are like the farm teams for the Major leagues. Players play at the level where their abilities are best suited. There are three levels:
Prep level where inexperienced players become acclimated to the 90 foot field with other players with similar abilities.

Alliance level for those preparing for high school level baseball.

Babe Ruth level for those at the high school level of play.

Travel teams allow for extra games for those wanting more baseball at a competitive setting.
All Stars are for the best players who will represent the league during district and higher level Babe Ruth Tournaments.